Mar 5, 2018 4:50:44 PM
For our February HUG event, Event Marketing - Getting Your Online Audience to Register for In-Person Events, we had special guest Sonya Bradley, CMO of Visit Sacramento, share her experience overseeing inbound marketing techniques to sell tickets for the USA Track and Field Championship in June 2017.
The event took place at Outlet Coworking in Midtown Sacramento from 6-8PM on Thursday, February 22. Here's how it went down.
Logan Reads Sacramento HUG Survey Results
At our November HUG event, we surveyed our membership (both online and in person) to find out what you all care about. After removing all personal info, I've posted the survey so you can view the results. Here are a few highlights:
The majority (35%) of our base works in Marketing/Advertising (shocker...)
Overall quality of educational materials presented at HUG meetings rated at 4/5 (always trying to improve!)
48% would like to see HUG events 6x per year (currently we're at 4x per year)
Topics you'd like to see more of are Content Creation, Marketing/Sales Alignment, and Conversion Rate Optimization (noted)
Based on this knowledge, we're considering opening up HUG meetings to virtual events (webinars). More to come.
Thank you again for participating in the survey—again, it's YOUR group!
Alycia Promotes June Event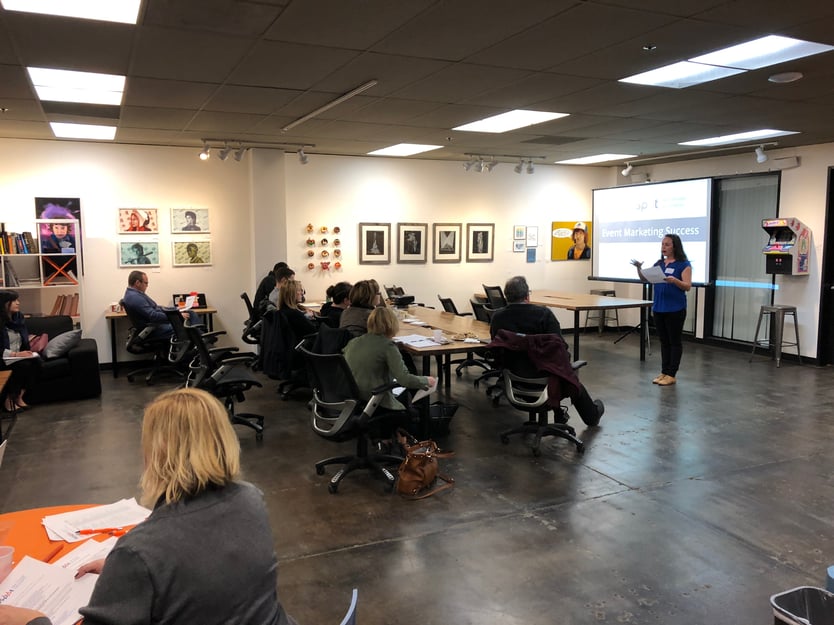 Alycia Deus (pronounced "dee-es") announced that in June (we know, it's a long ways off) we will be joined by a special guest. In June, HubSpot Academy Professor, creator of the HubSpot Content Marketing Certification, and Airstream enthusiast Justin Champion will present his Trailblazing Your Content Marketing Strategy workshop.
In this 2-hour interactive workshop, Justin will ensure each attendee walks away with:
A clear content mission statement.

Identified a core topic they want to rank for on search engines.

Identified five subtopic categories with which to create content around.

Identified five long-tail subtopics for one subtopic category.

HubSpot resources to continue learning and receiving support.
Location and time TBD—sign up for blog updates to be emailed with the details.
Josh And Sonya Present Inbound Marketing For Events
Background
The 2017 USA Track and Field Championship (USATF2017) was hosted by the Sacramento Sports Commission, a division of Visit Sacramento. The event was a great way to showcase our city and support athletics. Here are a few highlights from Sonya:
"Sacramento is a great place for track and field—long distance runners like it cool in the morning, sprinters like in hot in the afternoon." (Note: During the event, temeratures got to 107º!)

Goal was to sell 32,000 tickets

Sacramento has a brand new, $1 million track—one of the best in the country

1,900 athletes participated
NBC provided the television coverage

"There are hardcore track fans that will go there and sit in the sun all day. Then there are the other fans who will go on the weekend or because it's something fun to do—those are the fans we wanted."
Marketing
Josh Unfried, CEO of WindFarm Marketing, presented the case study of how his agency used inbound marketing techniques for ticket sales. A few highlights:
Persona development is crucial to getting your marketing right

Social media giveaways were huge for conversion (email and eventually ticket sales)

Consider co-giveaways with similar brands—gives great exposure to both

Facebook ads were great for awareness, and Google AdWords were beneficial for conversion
To read more about the insights, specific methods, and the results WindFarm acheived for Visit Sacramento and the USATF2017 ticket sales campaign, please feel free to download Josh's slides here.
Conclusion
Inbound marketing works for in-person (and online) events! Again, if you'd like to see the results and specific methodologies outlined in this blog post, please download the slide deck.
Thanks for reading and see you at our next event!